Discounts/Vouchers
We reserve the right to offer discounts and vouchers to selected customers from time to time.
General Terms for Discounts, Money Off and Vouchers:
What Do We Accept?
We accept some money off, discounts and instant rewards, in the form of vouchers, receipts, offer codes, QR codes, or otherwise ("Vouchers"). We also offer money off Vouchers/discount codes/QR codes that can only be used online ("Electronic Vouchers"). Vouchers/Electronic Vouchers may be automatically printed at our till, or some may be emailed, posted on our social media, or posted in advance.
Terms for Vouchers
All information in relation to the money off, discount, promotion, validity dates and how to use it will be written on the Voucher/Electronic Voucher, or in the email, or in the corresponding terms of redemption. By using the Voucher/Electronic Voucher or accepting the money off, you accept the terms and conditions that are valid for each discount or promotion.
Where Can Vouchers Be Used?
An Electronic Voucher for money off a minimum spend, can be used online only, unless stated otherwise. Please note, some Vouchers/Electronic Vouchers are valid with particular stylists/therapists only. See the Voucher/Electronic Voucher terms for redemption details.
Multiple Vouchers
Multiple Vouchers/Electronic Vouchers may not be redeemed within the same transactio
Surrender
You must hand any paper Vouchers over to the salon/clinic at the outset of your transaction if you wish to redeem same. We will not accept amended, damaged or photocopied Vouchers. We may not accept Vouchers which have incorrect codes. We do not accept any liability for lost or damaged Vouchers.
Electronic Vouchers are surrendered by using the code or reference on them.  Electronic Vouchers can only be redeemed once.
Limitations
Vouchers including Electronic Vouchers are not transferable, cannot be used more than once and have no cash value. Unless otherwise specified, Vouchers can only be redeemed against one item.  Vouchers/Electronic Vouchers once redeemed cannot be carried over if they are unused in accordance with the terms of the specific offer.
When the Voucher is Applied
Vouchers and Electronic Vouchers are applied at the end of the transaction when all other promotions and discounts have been removed and pricings have been calculated.
Liability
We do not accept any responsibility for any computer or equipment failure resulting in a transaction failing to register or any Voucher/Electronic Voucher failing to be generated, printed or redeemed. We also do not accept responsibility for lost or stolen Vouchers. Once you have the Voucher, it is your responsibility to keep it safe.
Variations
Our decision is final in respect of whether a Voucher/Electronic Voucher will or will not be honoured. We reserve the right to modify, withdraw, terminate or temporarily suspend any promotion or Voucher/Electronic Voucher in whole or part at any time. We reserve the right to withdraw or substitute items in a Voucher promotion at any time.
Governing Law
All our promotions, including Vouchers/Electronic Vouchers, are governed by the laws of England and Wales and are subject to the non-exclusive jurisdiction of the courts of England and Wales.
Promoter
All reference to the promoter in our Vouchers/Electronic Vouchers is DD Clinical Limited, Frodsham Court, Frodsham Street, Chester, CH1 3JT, unless specified otherwise.
Refund Policy
No Refunds Policy
Thank you for choosing DD Clinical for your treatment/service needs. We are dedicated to providing high-quality care and services to our valued clients. Please review our "No Refunds" policy regarding treatments/services, outlined below:
All Payments are Non-Refundable: Once a payment has been made for a treatment or service at DD Clinical, it is considered non-refundable. This includes but is not limited to, aesthetic procedures, consultations, injections, laser treatments, and any other services provided by our clinic.
Informed Consent: Before undergoing any treatment or service, our clients are required to provide informed consent. This includes understanding the nature of the procedure, its potential risks and benefits, expected outcomes, and any associated costs. We encourage our clients to ask questions and seek clarification to ensure a thorough understanding of the treatment/service before proceeding.
Satisfaction and Results: While we strive for client satisfaction, individual results may vary depending on factors such as skin type, lifestyle, and adherence to post-treatment instructions. We cannot guarantee specific results or outcomes. Therefore, dissatisfaction with the outcome of a treatment/service does not qualify for a refund.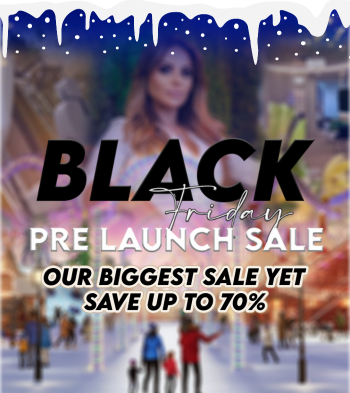 Terms and Conditions for DD Groups' Black Friday Event
Winter Wonderland Christmas Event:
Goody Bags: Available on a 'first come, first served' basis and subject to availability.
Event Capacity: The event has limited capacity and entry is subject to availability.
RSVP: Please RSVP by email with your full name and contact details plus the number of people who you will be attending with.
Black Friday Exclusive Savings:
Redemption and Validity: Customers must redeem offers within six months of purchase date and or/ commence first treatment in a course by 31st May 2024.
Offer Availability: Black Friday pre launch offers will be available to purchase on the 22nd November 2023 at our Winter Wonderland Event. Offers will be uploaded to all active social media platforms & email platforms. However these offers are subject to availability and priority will be granted on a first come basis
Hair stylist Selection: Our Black Friday Offers are available with selected  Stylists only and will exclude self employed stylists. For information on team members included in each offer please ask DD Hair & Beauty Reception or Email Salon@ddhairandbeauty.co.uk.
Medical Treatments: All Medical treatments classified as medical will adhere to specific advertising restrictions and will not be included in any discounts or offers.
Genuine Price Reductions: Savings claims will be based on genuine price reductions from the original price.
Limited Packages: The number of available packages is estimated based on previous demand and is subject to availability.
Quality Claims: For any information on scientific information and clinical trails and evidence please email info@ddclincial.com.
Vouchers: Multiple Vouchers/Electronic Vouchers may not be redeemed within the same transaction. Vouchers and Electronic Vouchers are applied at the end of the transaction when all other promotions and discounts have been removed and price has been calculated.
Age Restriction: Offers can be purchased by persons over the age of 18 years of age only.  DD Group reserve the right to request identification for proof of age.
Discounts: can not be used in conjunction with any other offers.
Additional Terms for Specific Black Friday Offers:
20% Off Hair Care/Style Products: Any exclusions will be clearly marked with an asterisk and detailed on the advertisement.
Blow Dry Offer: This package will need to be redeemed within a year from the date of purchase. Any remaining blow dry treatments remaining after this date will be void.
DD Discount card: Can only be used on services Tuesday – Thursday and must only be used by the person who's name is written on the discount card.
Training Course Bookings: An asterisk will indicate any restrictions related to course bookings. The course must be purchased in full by 25th November 2023. The customer is responsible for checking that they have the correct pre-required qualifications to qualify for participation on the course.  No refund will be offered.
Discounts: Discounts on courses represent genuine savings from standard course prices.
Purchase Methods: To make a purchase of the Black Friday offers customers must purchase in-house by cash, card, or BACS transfer.
General Provisions:
Changes and Updates: DD Groups reserves the right to modify these terms without prior notice for reasons outside of its reasonable control.
Compliance: All offers and promotions are subject to current laws and regulations.
Customer Responsibility: Customers are responsible for reading and understanding the terms associated with each offer.